GARDEN


In the presentation of the fabbrica that Palladiodesigned for Nicolò and Alvise Foscari "not far from the Gambarare", in the Brenta River, he represents a layout of exterior spaces of great suggestion.

In the drawing that he published in his Treatise, he envisioned a podium that supports the portico, extending itself visually in the form of two walls of equal height, one to the left and one to the right of the portico, forming – in the rural landscape on which this building rises – an extended basis villae according to the antique models in which the literary pages of Plinio testify.

These walls would also have provided two courts (or "secret gardens") beside the house: one to the east and one to the west.

These two courts would have had access to the two main rooms of the ground floor, in a way that within these two fenced-in, therefore protected, exterior spaces, it would have been possible to carry on domestic activities that were practiced outside of the house.

This solution was not built (because the riverbed on which the fabbrica rises would not have permitted its construction). In its place, most certainly, some broli were built of which there are no evidence.

In the following years, around the house was built an arcade (to the south), a big guest quarters (to the east), an oratory and a granary (to the west). A big piazza facing the River was then built in the beginning of the 18th century next to this solemn residential complex.

All these buildings (including those that surrounded the piazza) were demolished during the 19th century, in a way that the Palladian manufact found itself, in the 20th century, alone as it was, at its construction in the mid 16th century.

The redefinition of the exterior space of the Palladian fabbrica was begun by Albert Clinton Landsberg (1889-1965) when he purchased the complex (in 1924).

The new layout was designed by Paul Rodocanachi (1871-1952), amateur of great culture and of vast experience who had already built in Neuilly-sur-Seine, the house that is presently the Civic Museum of that Parisian neighborhood, in which he added an large garden that rises on the banks of the Seine.

Based on the drawings of Paul Rodocanachi, some pathways were built – for automobiles as well as for pedestrians – from layouts of exemplary simplicity, creating a situation perfectly compatible with the aura that permeates these spaces.

Next to the house were built two square forms conceived to evoke the courts that Palladio represented in the illustration of this house published in his Treatise in 1570.
P. Rodocanachi
Noboru Inoue, A+U
| | | |
| --- | --- | --- |
| | | |
| Noboru Inoue, A+U | | C. Thomas |
| | | | | |
| --- | --- | --- | --- | --- |
| | | | | |
| Noboru Inoue, A+U | | Noboru Inoue, A+U | | C. Thomas |
Orto Chiuso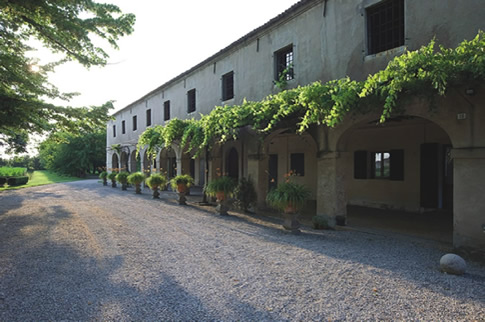 C. Thomas
C. Thomas